About the Oregon History Project
The Oregon History Project is a digital resource of the Oregon Historical Society Museum and Research Library. So far, hundreds of historical records and artifacts from the unique and extensive OHS collections have been digitized, annotated, and organized. The OHP provides historical Narratives written by Pacific Northwest historians and an online Learning Center for teachers and students. The OHP is part of the OHS Digital History Projects, which include The Oregon Encyclopedia and Oregon Wayfinder. Using expert scholarship and OHS's extensive collections of photographs, artifacts, and archival materials, the OHP, The OE, and the Wayfinder make Oregon history free and accessible to everyone.
Featured Historical Records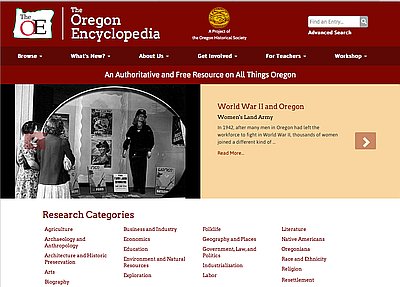 The Oregon Encyclopedia
The Oregon Encyclopedia (The OE) is an online resource for information on the state's significant people, places, events, institutions, and biota. Acknowledged nationally for its innovative design and the quality of its content, The OE is the only encyclopedia of its kind in the region.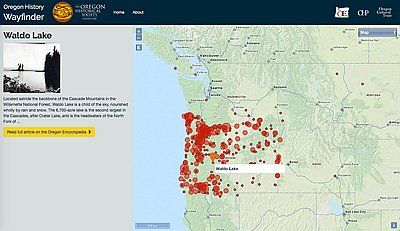 Oregon History Wayfinder
The Oregon History Wayfinder is an interactive map that identifies significant places, people, and events in Oregon history. Each point on the map connects to the historical records and scholarship on the Oregon History Project and The Oregon Encyclopedia. The Oregon History Wayfinder is supported in part by the Oregon Heritage Commission.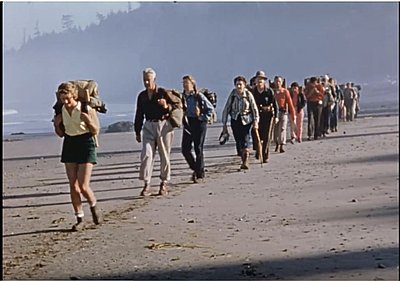 Beach Hike (Louis Huber, 1958)
In 1958, Supreme Court Justice William O. Douglas led a hike in protest of a proposed coastal highway along the Olympic Peninsula and brought a film crew along. Seventy hikers, including Douglas, walked for three days along 20 miles of beach in Washington State between Lake Ozette and Cape Alava (the farthest point west in the 48-contiguous United States), then south to Rialto Beach. Douglas, who grew up Yakima, was an outspoken advocate for preserving the natural environment. Also participating in the hike were Wilderness Society president Harvey Broome, National Parks Association president Sigurd F. Olsen, and Olympic National Park superintendent Daniel B. Beard. According to the North Cascades Conservation Council this hike was an early defining moment in helping to solidify the environmental movement in the Pacific Northwest. The event also captured the attention of the national media – most notably through Douglas' participation – and became an example of the power of the media and grass roots campaigning to help sway public opinion. The proposed highway was shelved, and the coastline looks remarkably similar to how it did that August in 1958.