About the Oregon History Project
The Oregon History Project is a digital resource of the Oregon Historical Society Museum and Research Library. So far, hundreds of historical records and artifacts from the unique and extensive OHS collections have been digitized, annotated, and organized. The OHP provides historical Narratives written by Pacific Northwest historians and an online Learning Center for teachers and students. The OHP is part of the OHS Digital History Projects, which include The Oregon Encyclopedia and Oregon Wayfinder. Using expert scholarship and OHS's extensive collections of photographs, artifacts, and archival materials, the OHP, The OE, and the Wayfinder make Oregon history free and accessible to everyone.
Featured Historical Records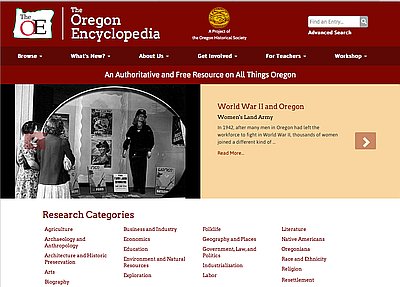 The Oregon Encyclopedia
The Oregon Encyclopedia (The OE) is an online resource for information on the state's significant people, places, events, institutions, and biota. Acknowledged nationally for its innovative design and the quality of its content, The OE is the only encyclopedia of its kind in the region.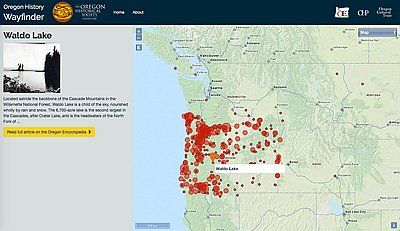 Oregon History Wayfinder
The Oregon History Wayfinder is an interactive map that identifies significant places, people, and events in Oregon history. Each point on the map connects to the historical records and scholarship on the Oregon History Project and The Oregon Encyclopedia. The Oregon History Wayfinder is supported in part by the Oregon Heritage Commission.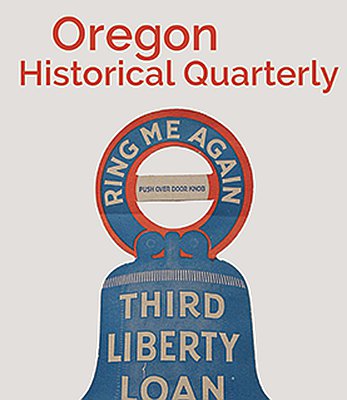 OREGON HISTORICAL QUARTERLY FREE ARTICLE
"Women's 'Positive Patriotic Duty' to Participate: The Practice of Female Citizenship in Oregon and the Expanding Surveillance State during the First World War." Kimberly Jensen explores the practice of visible female citizenship in America during and after the First World War. During that time, thousands of women in Oregon participated in "visible civic pageantry" associated with national Liberty Loan drives and "an emerging surveillance state that included new strategies for scrutiny." Jensen documents local and national forces "on women to conform to wartime norms," and highlights ways in which women resisted wartime surveillance that challenged their civil liberties.