About the Oregon History Project
The Oregon History Project is a digital resource of the Oregon Historical Society Museum and Research Library. So far, hundreds of historical records and artifacts from the unique and extensive OHS collections have been digitized, annotated, and organized. The OHP provides historical Narratives written by Pacific Northwest historians and an online Learning Center for teachers and students. The OHP is part of the OHS Digital History Projects, which include The Oregon Encyclopedia and Oregon Wayfinder. Using expert scholarship and OHS's extensive collections of photographs, artifacts, and archival materials, the OHP, The OE, and the Wayfinder make Oregon history free and accessible to everyone.
Featured Historical Records
---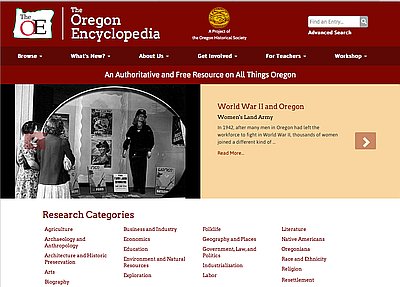 The Oregon Encyclopedia
The Oregon Encyclopedia (The OE) is an online resource for information on the state's significant people, places, events, institutions, and biota. Acknowledged nationally for its innovative design and the quality of its content, The OE is the only encyclopedia of its kind in the region.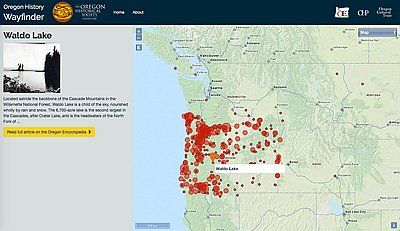 Oregon History Wayfinder
The Oregon History Wayfinder is an interactive map that identifies significant places, people, and events in Oregon history. Each point on the map connects to the historical records and scholarship on the Oregon History Project and The Oregon Encyclopedia. The Oregon History Wayfinder is supported in part by the Oregon Heritage Commission.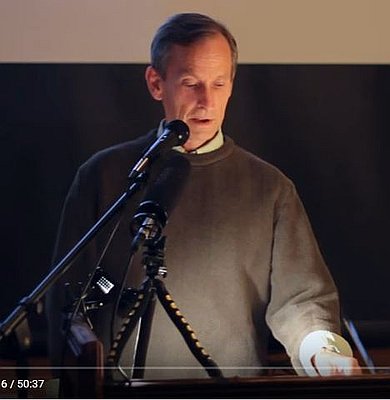 Oregon History 101: "How the Donation Land Act Created the State of Oregon," presented by Dr. David Johnson
The Oregon Donation Land Law, passed by Congress in 1850, divided land into square plots that are still visible on the western Oregon landscape. The law allowed for white males and married women to claim 320 acres of free land, which helped spur the westward resettlement of European Americans to the Oregon territory and had lasting impact on the economic, political, and cultural development of the state. Professor Johnson will discuss how the Donation Land Act of 1850 initiated a land rush to Oregon, hastened the European American conquest of the territory, and—by virtue of the sheer size of the Donation Land claimant population—influenced almost every aspect of the region's subsequent transformation into a U.S. territory and state. David A. Johnson is a professor of history at Portland State University. His field of expertise is United States social and intellectual history.